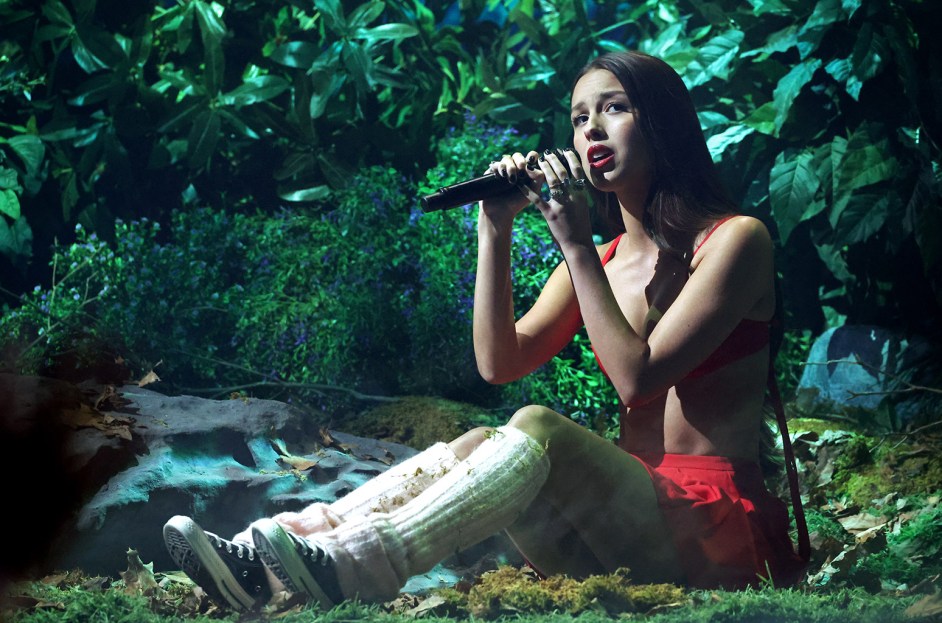 The sophomore slump has officially been avoided for Olivia Rodrigo. This week, her second album Guts debuts atop the Billboard 200, while also charting all 12 of its tracks in the top 40 of the Billboard Hot 100 — including a return to the No. 1 spot for a second week for its lead single, "Vampire."
As for questions of how Guts' first week would compare to that of her smash debut album Sour, the answer is: a little bit better. Guts debuts with 302,000 units to the 295,000 of Sour, while also charting one more Hot 100 entry — though that's mostly because the album contains 12 tracks to Sour's 11.
Is this the kind of performance we expected from Rodrigo's Sour follow-up? And where might her career be headed from here? Billboard staffers discuss these questions and more below.
1. Olivia Rodrigo's Guts debuts atop the Billboard 200 with 302,000 units moved — a smidge higher than the 295,000 posted by her debut album Sour in its first week. On a scale from 1-10, if you're Olivia Rodrigo, how happy are you with that number?
Katie Atkinson: A 10. Sour was such a blockbuster introduction, so to not only meet, but surpass that initial splash has to be a huge relief. Now Olivia is not just riding the momentum or the good will of the beloved songs from her debut album; she's released a collection of newly beloved songs whose full potential remains to be seen.
Kyle Denis: A strong 8.5. Not only did Olivia surpass Sour's first-week numbers, she also did it while leaning further into a sound that did not dominate her debut album. It was always going to be impossible to flawlessly recreate the exact conditions of a storm as perfect as Sour, but she pulled better numbers without having to do that.
Jason Lipshutz: An 8. Maybe Olivia Rodrigo and her team were hoping for an even larger debut number for one of the most anticipated pop albums of the year, but the reality is that Sour included bigger pre-release hits than Guts, with "Drivers License" and "good 4 u" — and Rodrigo's sophomore album still scored a larger sales number. That feat speaks to the general excitement around Rodrigo, crystallized by the way that Guts dominated the pop culture discourse upon its release; she's a superstar, and this 300k+ debut is another solid level up.
Danielle Pascual: A 9. What Olivia achieved with Sour was unheard of. Not only did it debut at No. 1 on the Billboard 200, it was also the biggest album of 2021 and remains the longest-running debut album on the chart this century. The fact that she didn't have an eight-week Hot 100 chart-topping lead single ("Drivers License") this time around, but still outpaced Sour's first-week, is a true testament to her popstar prowess.
Andrew Unterberger: An 8. To match and even slightly exceed Sour is no small feat, given how hard it has proven (especially in recent years) for pop stars with more-or-less fully formed debut albums to maintain that performance for LP2. But given the anticipation for Guts and just how much emphasis Rodrigo puts on her album releases — to the point where she was essentially gone from popular music for most of the two years in between the two sets — I also wouldn't be surprised if Team Rodrigo was at least somewhat hoping to land a first-week number more in line with the very biggest releases of the year.
2. After hanging around the top 10 for most of the 10 weeks it had been on the chart, "Vampire" rebounds to No. 1 this week, while "Bad Idea Right?" zooms back from No. 26 to a new peak of No. 7 in its fifth week. Have those first two Guts songs have mostly underperformed, overperformed, or about matched your commercial expectations so far?
Katie Atkinson: I would say matched. The album's lead single being a chart-topper makes a lot of sense, given all the curiosity around what her sophomore album would sound like. And "bad idea right?" still has room to grow, especially at pop radio, so I could see it surpassing its new No. 7 peak. If you look at the Sour twofer of eight-week No. 1 "drivers license" followed by the No. 3-peaking "Déjà Vu," it's a similar trajectory. And then there was "good 4 u"…
Kyle Denis: I think they've both just about matched my commercial expectations so far. "Vampire" has performed quite consistently – especially considering its pseudo-rock opera sound is pretty far removed from the country, Afrobeats and hip-hop that have been mainstays in the Hot 100's upper regions this year. "Bad Idea Right" reaching a new peak is also impressive, for me, because the Guts singles had a more truncated pre-album release period than the Sour singles did. Sure, neither song really recaptured the heights of "Drivers License" and "Good 4 U," but Olivia could've very well ended up flat on her face if she focused on recreating those successes to a tee.
Jason Lipshutz: Overperformed! "Vampire" is a singular pop-radio experience these days — sprawling and theatrical in approach compared to the clipped, ultra-catchy songs in power rotation around it — while "Bad Idea Right?" slides into the "good 4 u" lane but rocks harder and shrugs off pop appeal more vociferously. The fact that both singles have logged multiple frames in the top 10, and that one of them has spent a pair of weeks at No. 1, while being notably out of step with modern pop trends illustrates Rodrigo's current power as an A-list artist, capable of bending popular music towards her interests.
Danielle Pascual: Overperformed. From the moment Olivia announced Guts, I knew it'd be nearly impossible to match the success of "Drivers' License" for her sophomore album's lead single. When you go on a two-year break between your debut and sophomore albums, you risk the chance of fans falling off, forgetting about you or moving on to the next big thing. However, the fact that "Vampire" returned to No. 1 upon Guts' big Billboard 200 debut shows that her dedicated army of Livies aren't going anywhere. Also, not many artists can say they rose nearly 20 spots in a single week — and as "Bad Idea Right?" continues to gain traction on TikTok, I don't think it's reached its peak just yet.
Andrew Unterberger: Matched. Both songs came in a little softer than their accompanying Sour-era singles, but both were also slightly tougher sells commercially — the fact that "Vampire" has still racked up two weeks at No. 1 and "Idea" has now reached a No. 7 peak is pretty impressive, considering.
3. "Get Him Back!" is the highest-debuting of the set's new tracks, bowing at No. 11 — assisted by top Spotify New Music Friday placement, an eye-catching music video and a big look at the MTV Video Music Awards last Tuesday. Does it seem to you like it will be a lasting hit off the album? If not, is there another song on the album you think could be ticketed for (or worthy of) such success?
Katie Atkinson: I 100% peg this as the "good 4 u" of Guts – and I'm betting that No. 11 is just the beginning. First of all, can we talk about the title turn-of-phrase? It's one of those cute little wordplay moments that you hear in a song and can't believe it isn't already a cliché. Flipping "get him back" to mean reunite AND exact revenge is so brilliantly bratty. For me, this is the lasting hit.
Kyle Denis: Yes. I think, right now, all signs point to "Get Him Back!" becoming not just a lasting hit, but potentially the biggest hit of the entire Guts era. That chorus is undeniable, and the bratty spoken verses are simply irresistible. Outside of "Get Him Back!" I think "Making the Bed" and "The Grudge" could do a little something. It'll be interesting to see whether the rest of this album's singles bank on the ballads or the more overt pop-rock bangers.
Jason Lipshutz: It depends on the concurrent runs of the Rodrigo songs around it: If "Vampire" and "Bad Idea Right?" continue rolling in the top 10 of the Hot 100, and commanding the attention of radio blocks and streaming playlists, then "Get Him Back!" — which already received a splashy music video and big awards look — will be crowded out of the spotlight. I hope that's not the case, however, because "Get Him Back!" is the best song on Guts, and would be a truly exciting mainstream hit. Let's hope there's enough room in our cultural appetite for its dazzling wordplay and exploding-heart breakdown.
Danielle Pascual: I will definitely be surprised if "Get Him Back!" doesn't hit the Hot 100 top 10 next week. With the similar Y2K pop-punk feel to it that "Bad Idea Right?" has, "Get Him Back!" is undoubtedly getting a bigger push — and not just by the label. A fan-made TikTok dance for the song is going viral, as is a trend of people recreating its iPhone-made music video. Chatter surrounding the song only seems to be growing, and I'd place my bets on it becoming the biggest hit on Guts.
Andrew Unterberger: It does definitely seem like the best pick for a Guts breakout hit, but I'm a little worried about its performance so far. Despite getting a top placement on Spotify's New Music Friday playlist and both a flashy music video and an eye-catching VMAs introductory performance last Tuesday, the song still missed a top 10 debut this week, and its streaming numbers in the days since haven't really been trending in the right direction. Maybe it just needs a little time to take off online, but that hasn't been the case with Rodrigo so far — both "License" and "Good" had already caught like wildfire by the end of their debut weeks — and if the stellar video and VMAs performance couldn't further stoke those flames, I'm not sure what will. Certainly rooting for it though.
4. Guts leans even further into the alt-rock inclinations that Rodrigo had flashed on a few Sour songs — while she has given high-profile shoutouts to '90s alternative acts like Rage Against the Machine in recent interviews, and even invited The Breeders to open some of her upcoming Guts World Tour arena dates. Do you think the success of Guts will lead to a greater prominence of guitar rock and/or '90s influences in the mainstream, or does it mostly just work for Olivia Rodrigo because she's Olivia Rodrigo?
Katie Atkinson: As much as I'd like this is all to lead to a riot-grrrrl-aissance, I think it just works particularly well for Olivia Rodrigo. She's got the Empire Records fashion and the Alanis-nodding music video and, yes, even The Breeders on tour with her. It's a little reminiscent of Bruno Mars cherry-picking the best of various genres and decades and finding a way to make the classics current. It's savvy but it's not the only reason fans are connecting to her music; it's just part of the overall appeal.
Kyle Denis: I hope it does! You can never have too many different kinds of music making their presence known in the zeitgeist. I think Olivia obviously carries a level of fame that will give her a higher ceiling of commercial success, but I hesitate to say that the guitar rock is working for her just because she's her. From Billie Eilish's "Happier Than Ever" and Demi Lovato's new Revamped album to Jelly Roll's "Need a Favor" and Zach Bryan new self-titled album, I think we're see a rise in guitar rock's mainstream prominence across the board, which makes me think a larger renaissance could be on the horizon.
Jason Lipshutz: Probably a little bit of both, although I do think that we may be in for a upswing of louder guitars in pop music — thanks to Rodrigo, but also considering rock nods from pop superstars like Billie Eilish and Harry Styles, crossover country hits from Morgan Wallen and Luke Combs, and the fact that genre-splitting singer-songwriters like Noah Kahan and Zach Bryan are establishing themselves as radio presences. Rodrigo may be more well-versed in (often quite excellent) punk, alternative and hard rock, but the success of her sound can also be folded into a greater six-string trend that I'd bet hasn't yet peaked.
Danielle Pascual: The trend has potential to go mainstream, and labels will undoubtedly try to replicate Olivia's success with their emerging artists. However, I don't think any push will generate near the same numbers she has pulled, especially only a couple years into her musical career. All-girl rock bands have been around forever, and most are lucky to see success on the charts these days. Even artists in her genre that have been in the game (like Avril Lavigne), haven't seen near the same numbers Olivia has pulled with their new releases. For the current moment, Olivia is the reigning princess of pop-punk, and no one seems to be overthrowing her any time soon.
Andrew Unterberger: I doubt we'll get a bunch of soundalikes littering the Hot 100, but the more important thing is Rodrigo re-normalizing guitar rock within popular music — a trend that's been ongoing for basically the entire decade so far, and which she certainly already helped along the way with "Good 4 U" and a couple other Sour album cuts. In the mid-to-late 2010s, it was becoming a rarity to hear six-strings anywhere on top 40 radio or on New Music Friday; now, they're all over the place again. Doesn't mean next year's VMAs are gonna look like the 1995 awards, but if there were a handful of very disparate guitar-based performances featured throughout, it would hardly be shocking.
5. When Rodrigo broke out in 2021, the Taylor Swift comparisons were obvious and plentiful — not just because of the similarities they shared as prodigious young singer-songwriters, but because Rodrigo seemed to be one of the only new 2020s artists with the commercial ceiling to potentially one day match Swift in popularity. Do you think the early returns for Guts show Rodrigo still having that kind of momentum?
Katie Atkinson: The growth album-over-album can only mean positive things for Olivia and her future. And while I think the comparisons were apt when she first broke out, given the diaristic songwriting and starting as a teen, I feel like Guts shows that she isn't following an exact Swiftian playbook. I don't think even Taylor could have predicted how her own career would transpire, and I'm looking forward to seeing the unique way Olivia's unfolds as well.
Kyle Denis: I'll say yes. She's already established a dedicated base — as evidenced by the historic streaming numbers of "Drivers License" – and she has very clearly only expanded that base and deepened her connection with them based on the first-week numbers for Guts. Given the fact that she's already borrowed a few familiar bits of Swift's M.O. – including various limited-edition vinyls and Easter eggs galore – she clearly knows how to keep that momentum going, and her upcoming tour will do the same, especially on a global scale. I'm not saying O3 will open with a million copies in its first week like Swift's Speak Now did, but I do think that Olivia is already on a better track than most of her peers.
Jason Lipshutz: No — and not because Rodrigo, who just released one of the strongest full-lengths of the year, is doing anything wrong, but because Swift is in an entirely different stratosphere than any other artist working today when it comes to modern popularity. Maybe Rodrigo gets there someday, considering her seemingly endless talent and her still-bulletproof catalog, but as she herself would likely admit, it'll take a long, long time.
Danielle Pascual: A cautious yes. Debuting every song from your sophomore album in the Hot 100 top 40 is not a common feat. She also added 18 additional shows to her 2024 tour's lineup, so demand is clearly there. However, I would've immediately answered "yes" if asked the same thing about Billie Eilish following the original success of "Bad Guy" — yet her follow-up album Happier Than Ever didn't seem to have the same lasting impact that When We All Fall Asleep, Where Do We Go? had. In this day of TikTok as new artists go viral every day, making a decades-long impression is easier said than done. And though Guts' pace is great so far, will people regard it as one of the greatest pop projects of our time? Hard to say for sure, but I personally hope so.
Andrew Unterberger: Not necessarily, but the potential is still there. When comparing their two career timelines, Swift has the (somewhat ironic) advantage of having a very flawed debut — an album that boasted some excellent singles and certainly did well, but had enough room for improvement both artistically and commercially to allow for the great leap forward of Fearless. Such a jump was near-impossible for Rodrigo here, but she's showing her commercial growth in other ways: namely, an arena world tour that includes four dates each at MSG, the Forum and the O2 Center. The sky's still the limit for Rodrigo, but considering Swift is barely even tethered to this planet anymore, she'll have to continue leveling up pretty consistently — and perhaps more importantly, she'll have to really want to keep doing so — to reach near Swift's heights.